With the development of technologies such as VR and AR, how will our lives and behaviors change if a future in which people's physical information is distributed on platforms is realized? In Academic Transformation Area (B) Foundations of Digital Embodied Economics, a research team led by Associate Professor Keigo Inukai of the Faculty of Economics at Meiji Gakuin University specializes in behavioral economics, psychology, brain science, and informatics. These researchers are working across disciplines to explore new behavioral economics in such a future.
Mr. Inukai, who specializes in economics, focuses on the "emotional part" of human beings and is particularly interested in the digitization of the sense of touch among the physical reasons. What does it mean to digitize bodily sensations, and what new possibilities exist for realizing it? We interviewed Mr. Inukai about the background and current state of his research.
I want to create economics that deals with "emotional" things
─This is an unfamiliar term, so what exactly is the study of digital embodied economics?
Inukai: Roughly speaking, it is a field that researches how people's decision-making and economic activities will change by digitizing the physical senses such as the sense of touch, which have not been digitized much. The digitization of bodily sensations means converting the textures and tactile sensations of objects, the sensations of human touch for example, into information so they can be reproduced on devices.
For example, here is a device called the Heart Picnic. A stethoscope is placed on the chest to pick up the heart sounds, and by converting them using a vibrator (heart box), the vibrations can be felt in the hands. With this, you can feel the heartbeat of other people with your hands, though the vibrations are amplified, so it feels somewhat raw. It's a little embarrassing to give and receive them.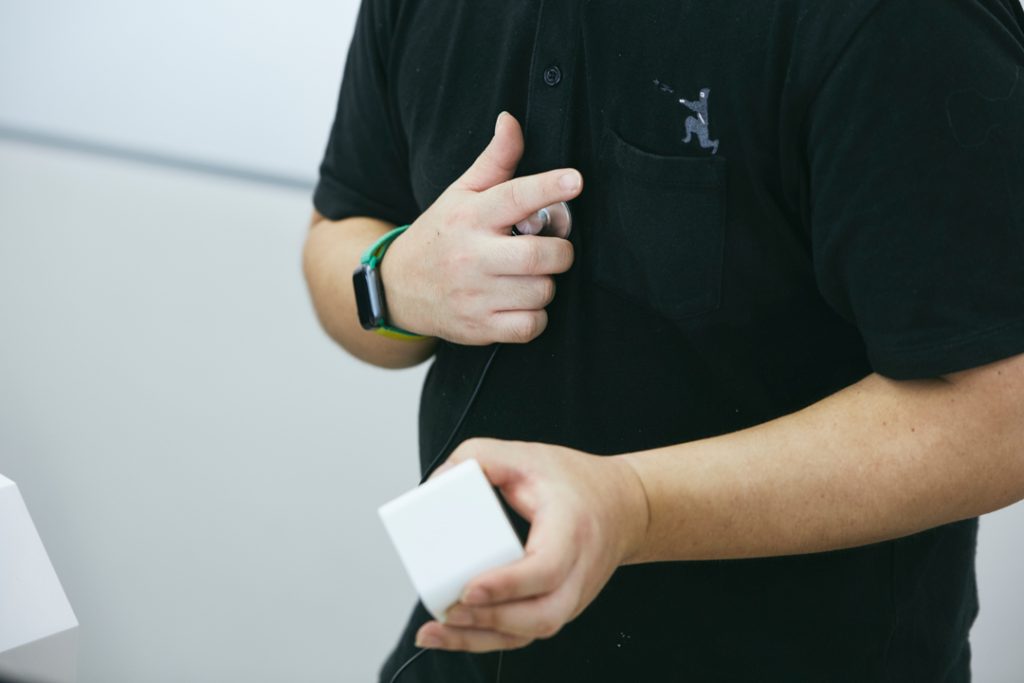 Inukai: One of the themes of digital embodied economics is to investigate how this digitally accessible physicality affects our economic activities and consumption behavior. For example, when you invest in someone's business, if you feel the heartbeat of the person you lend money to with this device, the amount you intend to invest may change. I am interested in such irrationality of human beings.
─When we think of economics, we inevitably think of systematic research using statistics and mathematical models.
Inukai: I initially specialized in a field of economics known as behavioral economics. It studies how people make decisions and act in economic activities. It is said to be similar to psychology in terms of analyzing human habits.
After many years of research in this field, I have realized that humans do not follow economic models. Since economic activity is a game in which profits and losses are contested, it should be possible to derive the optimal solution theoretically, similar to table games such as shogi. However, in reality, there are many things that, even if you know it's profitable, you don't or can't do, so it's not easy to get results according to the theory. I think it's because humans have "emotional" bodies and emotions.
─As a result of pursuing your interest in economic activities, which should be unemotional, you have arrived at emotional physicality.
Inukai: That's precisely the image. From there, I started conducting joint research with researchers specializing in physicality, tactile sensations, robotics, and other fields, which led to digital embodied economics. I became interested in digital physicality rather than mere physicality because I was curious about what would happen if physical sensations were amplified by digital means. The Heart Picnic can be said to evoke the emotional feeling of humans by converting the feeling of heartbeat into a digital signal and amplifying it.
Digital senses shift from audiovisual to tactile
─Among these physical senses, why do you pay particular attention to the sense of touch?
Inukai: I think it will have a big impact when digitized. Today's information society is based on audiovisuals such as texts, images, and sounds. The reason is probably that it is difficult to digitize direct sensations that do not involve symbols, such as touch, smell, and taste. But precisely because it is difficult, the changes brought about by digitization should be great.
To use the Heart Picnic example again, heartbeat information can be stored on that device. Then, you can also convey the heartbeat saved on hand to a person far away. Alternatively, it will be possible for someone to feel a heartbeat recorded before death, or after death. The significance of digitization lies in its ability to transcend time and space to deliver sensations that would otherwise not be felt unless you were there at the time.
─There seems to be something similar to VR technology. What the VR device reproduces is audiovisual, but when a person touches you in the virtual space, this creates a realistic illusion as if they were actually touching your skin.
Inukai: I think you could call it a kind of digital physicality. Even in current VR, we know that adding tactile feedback, such as vibration to a stick in hand, will instantly amplify the sense of realism. Also, if you attach beetle horns to your VR avatar and add tactile feedback to them, you can really feel like you have horns. However, I think that it is a sensation that is close to an illusion, so I would like to think a little more about the actual sense of touch.
Of course, I am not an expert on the sense of touch, to begin with, so I am greatly influenced by the researchers around me. For example, psychology researchers around me are measuring brain activity when people feel the sensation of rough skin and investigating where differences in perception come from. Researchers in computational engineering and robotics are exploring the sense of touch in order to create telesurgery robots and the like. After all, how to reproduce the feel of operating a robot is an important issue.
Among the things we have developed through our joint research is a device that records the movements and strength of traditional craftsmen and outputs them to gloves so that you can relive them. There are also people who have created devices that transmit the sensation of eating from the jaw and throat so that even people who have difficulty swallowing can enjoy the sensation of food. In any case, since it straddles various specialized fields, the fact is that it is difficult to make progress without joint research.
A new way to connect by sharing physical senses
─What kind of changes will the digitization of the sense of touch bring to future communities and societies?
Inukai: I don't have a concrete image yet, but I think it would be interesting to think about social media based on touch. Today's social media is basically based on visual information, and while it makes it easier to meet people with whom you have a strong affinity, it can also make it difficult to meet people who have different opinions than you. If a service were created in the future that shared or exchanged sensations based on the sense of touch, it might be easier to build relationships with people who have different opinions and standpoints.
On the other hand, the sense of touch is also very private. When someone taps you on the shoulder, it's okay if it's someone you like, but it's terrifying to be touched by someone you don't like, even in the same way. It should be noted that tactile communication is highly interactive and has a high valence of emotion.
In other words, there are dangers and risks involved in tactile communication with strangers. It is also important to consider whether it is appropriate to distribute the private sense of touch, and as a behavioral economist, I would also like to think about how to reduce the disadvantages and make positive use of them.
─Are there any hypotheses or clues at present?
Inukai: I haven't found a definite answer yet, but play is one of the keys. The audiovisual-based Internet society is developing in the direction of trimming waste for smart and smooth exchange of information. However, such a design that emphasizes efficiency is actually incompatible with the emotional side of humans, and I wonder if this makes it easier for conflicts to occur on social media.
On the other hand, the sense of touch is, in a sense, noise and waste. If we were to implement it in the digital space, I think it would be good if we could incorporate that waste in a form that we could enjoy as fun. Games are a good example of that. By linking the real world with the virtual world, Pokémon GO successfully incorporates the troublesomeness of the real world into the game in a good way. Moreover, it's pure fun to play, so people gather, and a community naturally forms. I think it's the ideal way to go.
Overcoming traditional barriers through communication using a digital embodiment
─You often talk about "overcoming human selfishness." What does digital embodied economics say about this question?
Inukai: This overlaps with what we've talked about so far, but I think we should think about ways to approach people who have been left behind in the traditional market. We human beings with emotional physicality cannot always participate in the market or society in a healthy state. There are good times and bad times in life. I am interested in how we can create a society where people can support each other.
For example, remote work has become quite common now, but I think this situation has resulted in an opportunity to reconsider the meaning of "real." This is a face-to-face interview today, but what is the point of moving the physical body like this and gathering it in one place? It can be said that this question was seriously raised for the first time when the coronavirus made it impossible to do so. In the same way, I think that simulations of physicality and spatiality through digital embodiment have the potential to play a role in reconsidering what society and the market have taken for granted.
─In the example of remote work, there were some types of work where productivity would drop if it wasn't done face-to-face.
Inukai: Exactly. Being able to experience different situations and different ways of being in the body should allow us to recognize many problems.
I also think it makes sense to ask the question from an economics perspective. If you say, "Let's think about other people," it is too abstract to reach them, but if you tell them, "You'll miss out on business opportunities," the world might move on. Even in more mundane situations, there are quite a few times when work doesn't get done because of reasons like, "I don't feel comfortable talking to that person." Communication that utilizes digital physicality may make it easier to overcome such barriers.
All we know is about 20%. I want to create a dictionary of physical sensations
─What kind of experiments and research are you planning to do in the future?
Inukai: What I'm currently working on is creating a dictionary of physical sensations. I want to investigate the relationship between people's physical sensations and economic activities, so my team is planning a rather large-scale experiment.
Physical sensations differ from person to person. Some people react to the same stimulus with hypersensitivity, and others with insensitivity. Different generations also have different ways of perceiving and feeling digital communication. I'm trying to create a database of physical sensations to make it easier to share those sensations. If we link it with economic activity, we may be able to more precisely analyze the subjective feeling that, for example, there is some resistance to electronic money.
As a slightly longer-term goal, I would like to develop a device that can actually exchange the sense of touch. At present, reproducing this sense requires a head-mounted display or large-scale equipment, so I would like to be able to do this with familiar devices, such as smartphones, as much as possible.
─You have told us about several research projects today, but how much do we currently know about this digital embodiment?
Inukai: I think we don't understand it at all yet. It would be good if we knew as little as 20%. We are now at the stage where researchers from different fields are sharing a common awareness of issues and beginning experiments and development. I may have sounded a bit abstract today, but I think that if we can create even one symbolic example or experimental result, it will be easier to convey what we want to do. I would be happy if the dictionary of physical sensations could do that.
Guest Profile
Born In Matsumoto City, Nagano Prefecture In 1981. Hokkaido University, Ph.D. After Working As A JSPS Research Fellow PD, A Researcher At École Polytechnique (France), And A Lecturer At The Institute Of Social And Economic Research, Osaka University, He Is Currently An Associate Professor At The Faculty Of Economics, Meiji Gakuin University. He Specializes In Behavioral Economics, Experimental Economics, And Neuroeconomics. He Received The Osaka University Prize And The Association Of Behavioral Economics And Finance Best Paper Award Sponsored By Financial Services Group, Yahoo Japan Corporation. He Is Engaged In Research That Uses Experimental Social Science Methods To Investigate The Origins Of Human Sociality And The Dynamics Of Social Transformation In The Near Future.
Co-created by
Born In 1992. From PR Writing To Column Writing. His Main Areas Of Interest Are East Asian Pop Culture And Language Culture. Contributed To "Gender / Personality / <Oshi>" (Seikyusha, 2022) And "Idol Studies: Perspectives, Questions, Methods For Research" (Akashi Shoten, 2022) .

Shigeta Kobayashi

Photographer

Shigeta Kobayashi

Photographer

Born In Niigata, Japan In 1985, Photographer. Focusing On The Layering Of Human Physical Actions And Flows In Nature, He Creates Photographic Works By Treating The Materials He Photographs As Fragments Of These Layers. His Recent Works Include "AURORA" (2019) And "Cairn" (2020), Which Were Taken During His Two Consecutive Visits To Iceland. In "Stratum" (2022), Based On The Experience Of His Second Visit To Iceland, He Uses Photographs That Remain Vivid As A Record Of That Visit To Establish The Fluctuation Of Memories That Fade Over Time. In Another Work, "Yoha" (2020), Based On Photographs Taken Of The Indigo-Dyeing Process In Tokushima, Expresses The Act Of "Dyeing" As Printed Matter.
Discussion