Becoming a Hub that Connects People, Data, and Spaces
From May 9 to 12, GEMINI Laboratory will be holding "&CO," a joint exhibition at Design Post Köln in Germany during interzum 2023. Interzum is one of the world's largest furniture industry and wood processing trade shows. This will be AltField by GEMINI Laboratory's first exhibition and presentation.
Since its launch last October, GEMINI Laboratory has been expanding the concept of printing technology, working towards the realization of a future of borderless overlapping of the physical and virtual worlds.
On April 25, the AltField by GEMINI Laboratory digital data library was launched with the aim of serving as a hub that connects people, data, and spaces, so that everyone can discover alternative information spaces, share them with others, and make their own modifications. (Related article: GEMINI Laboratory Launches the "AltField" Material Library for Multi-layered Worlds)
Realizing GEMINI Laboratory's Vision for the Future through Four Areas
At the Design Post exhibition, GEMINI Laboratory will realize its vision of a fused physical and virtual world. Visitors will be able to experience this vision in the following four areas.
Material Playground
We can experience a simulation where digital materials modify the texture of walls, furniture, fabrics, and more in real space. The latest XR technology scans and identifies materials, then projects them into the real world.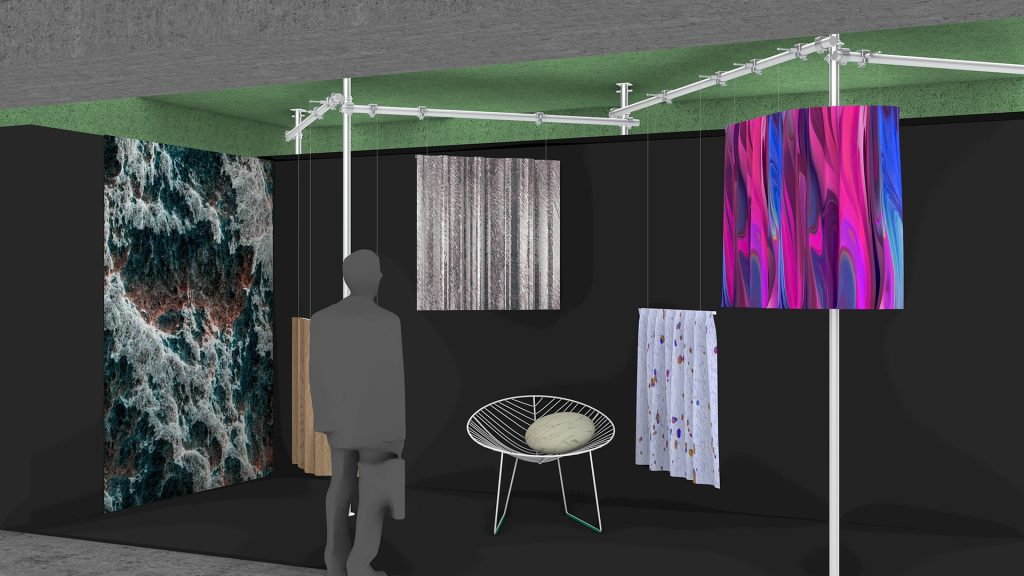 Embodied Immersive Experience
The immersive visual experience comes to life on an expansive screen, spanning over 10 meters, while tactile devices deliver a tangible, physical experience. This fusion allows us to seamlessly transition between the physical and virtual worlds through their bodies. The connection between these two realms is established by utilizing one's body as the linking device, offering a truly engaging and interactive experience.
Museum of Materials and Spaces
This museum of materials and spaces connects the physical and virtual worlds. We can explore various concepts and experience unique spaces and materials throughout the exhibition.
3D/4D Metamaterials
TOPPAN R&D team and GEMINI Lab showcase 3D printed polymer metamaterials and 4D self-morphing fabrics, which were prototyped through a collaboration with OPT Industries Inc and a research collaboration with Tangible Media Group, MIT MediaLab, respectively. By viewing and touching these prototypes, which make full use of the latest fabrication technologies, visitors can get a glimpse of future space design through computer co-creation.
The exhibition will begin on May 9 and continue for four days. Come experience a future that melds the physical and virtual worlds through these four exhibition areas.
Exhibition information
Date: 09-12 May, 2023
Place: Design Post Köln, Cologne, Germany
Discussion